Fall weddings are some of the most beautiful because of the vibrant colors and crisp weather the season provides us with. But there are a few different ways to have a gorgeous fall wedding.
1) Traditional Fall Look
This entails using darker colors, wooden accessories, real leaves and/or pumpkins, etc. This is what people think of when you say you're having a "fall wedding". This look can be very classy or more casual depending on what the couple wants the wedding to feel like. You could even spray-paint the leaves/pumpkins/acorns a metallic color to make them look more elegant.
2) Clean and Simple Look
If you want your wedding to portray "fall", but maybe don't want everything that the Traditional fall wedding entails, you could go with more of a clean and simple look. This look still includes the use of nature – wood, sticks, pine cones, etc. However, instead of using such a range of vibrant colors, you would use more neutral colors, to match the pieces of nature you are using. So this means browns, tans, army greens, and ivory (instead of bright white). You could even choose one vibrant color to use as the accent to all of the duller colors – red, navy, burgundy, etc.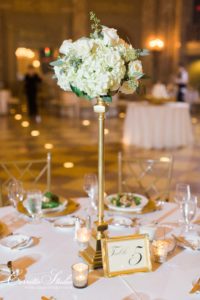 3) Black and White Look
This look is definitely more of a sophisticated look, so if you are going for more of a casual wedding, this might not be the best choice for you. This look is kind of a mix of the two before it – mostly black and white with hints of color. Black and white, when used together, becomes neutral, and then you can add a bit of color in the flowers, or on the dresses of the bridesmaids, or in the groomsmen's ties. And make sure to tie in some metallics wherever you can to make it look even more elegant!
No matter which look you choose, you are guaranteed to have a beautiful wedding in the fall!